Summer in Chicago just got a whole lot hotter! Heatwave Music Festival returns for its sophomore year with another lineup of stellar musical and artistic talent. This year's event will be headlined by some absolute powerhouses in the dance music scene. Attendees will enjoy the return of a hometown favorite, Kasakde, as he plays alongside deadmau5 in their collaborative project, Kx5, in their Chicago debut. Accompanying them in the headlining slots is versatile producer, DJ, and multi-instrumentalist GRiZ, pioneering dance megastar Tiësto, and acclaimed electronic duo and Gud Vibrations label heads Slander.
Rounding out the rest of the lineup, we see Gryffin, Loud Luxury, Nitti Gritti & Party Favor's house project SIDEPIECE, A-Trak, VNSSA, Cheat Codes, LSDREAM, Derro, Malaa, Whethen, Elephante, EDX, Luude, Noziu, and Alec Monopoly. Quite a few of the scene's rising stars are also slated to make an appearance, such as melodic tech house duo KREAM and fashionable twin sister duo Coco & Breezy. Alongside them will be Kaivon, Kai Wachi, Apashe, The Sponges, TWINSICK, Zingara, NOTD, and Automhate.
Prepare to be transported to a world of unparalleled artistic wonder at Heatwave Music Festival. As the festival unfolds, a diverse range of exceptional visual artists and creatives will take center stage, offering their unique talents and immersive installations to take your breath away. Drawing on the success of last year's festival, this year's edition promises even more awe-inspiring art, including Laura Kimpton's spellbinding DREAM with ME, the mesmerizing mural art of Pretty Done, the larger-than-life puppetry of Ellie Terrell, and a stunning statue garden inspired by pop-art. Each turn promises to be a visual feast, with photo opportunities that capture the essence of this year's utopian artistry.
Heatwave Music Festival will be taking place on June 10th and 11th at Northerly Island in Chicago, IL. Tickets are available HERE.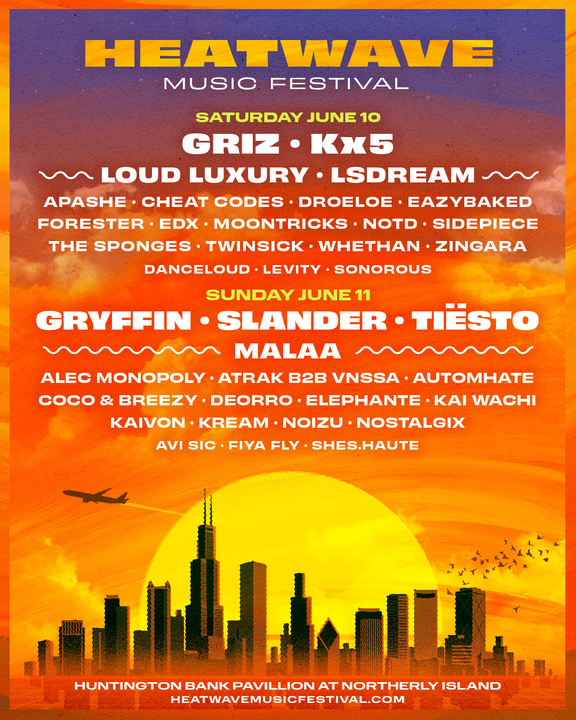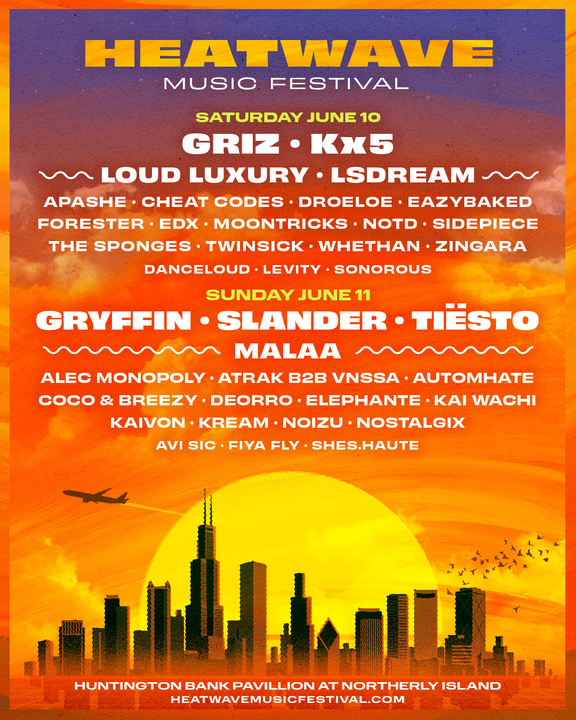 Photo courtesy of Heatwave/Don Idio
This article was first published on Your EDM. Source: Heatwave Music Festival Returns for it's Second year with Kx5, Tiësto, Slander, and More!