HARD was founded in 2007 by Gary Richards, aka Destructo, and began as a New Year's Eve party in downtown Los Angeles. Over the years, it's found its home in many venues as a touring festival, as well as the flagship event, which has occupied seven different venues in the past decade, including its current home at NOS Events Center in San Bernardino.

As we approach HARD Summer Music Festival later this month, which expands to 3 days for the first time ever, Your EDM has endeavored to rank our favorite HARD lineups over the years. As a note, because it will come up, this ranking is entirely subjective — there's no way a ranking like this couldn't be — and everyone's picks for favorite event/year are equally valid.
With that, let's get down to it. For the purposes of this ranking, we'll be looking at the 24 flagship HARD events from 2007 to 2021: HARD Haunted Mansion (4), HARD Day of the Dead (6), and HARD Summer (14).
9. HARD Summer 2012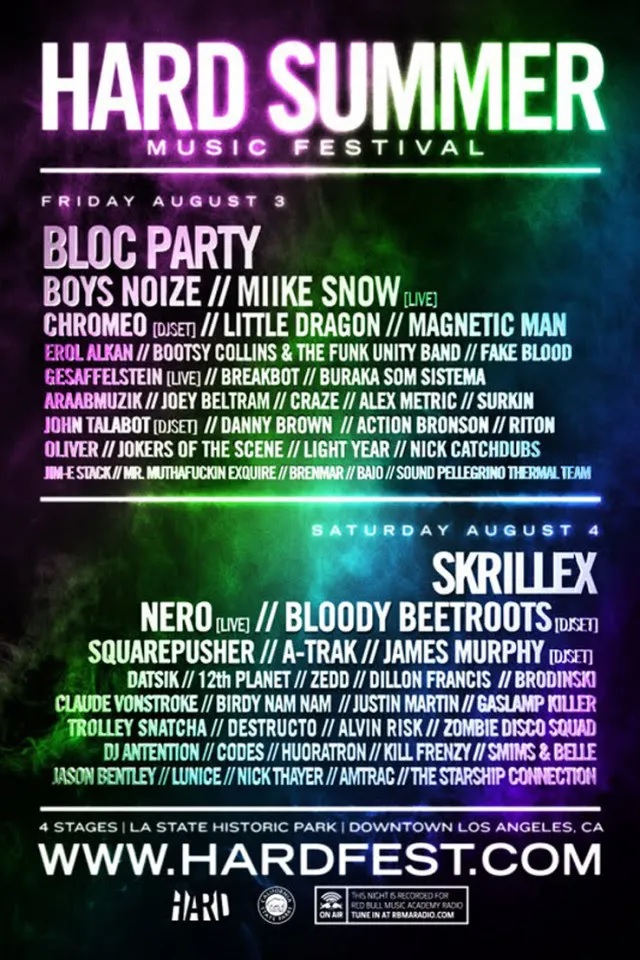 HARD had already become well established as a tastemaker festival, but this one deserves to start the list for a few reasons. At the top of the list is the first ever headline set for Skrillex after he'd played HARD Summer and Haunted Mansion the year prior.
Sadly, one of my great regrets is I didn't attend this year, missing out on probably my only chance to see Magnetic Man, the epic dubstep super group made of Skream, Benga, and Artwork.
The second year at LA State Historic Park, the festival grounds were more fleshed out and easier to navigate with four stages. You can see familiar names like Action Bronson at almost the bottom of the lineup, as well as Fool's Gold co-founder Nick Catchdubs, Birdy Nam Nam, Oliver, and Nick Thayer.
Nero continues to be a mainstay of the festival, as well as Boys Noize, Bloody Beetroots, Chromeo, Zedd, and Dillon Francis. You can also spot a rare DJ set from LCD Soundsystem frontman James Murphy on day 2.
8. HARD Day of the Dead 2015

HARD Day of the Dead 2015 is notable for being the first flagship HARD event to implement a 21+ age limit due to the unfortunate deaths of two attendees at HARD Summer earlier in the year.
"It's the second time county officials have called for a temporary ban on raves in less than five years," reported SGV Tribune.
The festival felt noticeably more empty than its predecessors without the usual just-out-of-high-school summer graduating class occupying the festival grounds in late July before they prepare to rush off to college. Still, performances from Deadmau5, Nero, Flying Lotus, Skrillex, Gesaffelstein, Kill The Noise, and a very early set from Marshmello gave the unique circumstances some true legendary status.
7. HARD Summer 2008

The first official HARD Summer ever, as it would come to be known. Electronic music, at the time, didn't have so many global superstars as it does now, but that didn't mean much to names like Steve Aoki, A-Trak, Kill The Noise, The Bloody Beetroots, and Jason Bentley who'd been deep in the scene for a while already.
And if you want to be even more impressed by those at HARD who book the lineups, MSTRKRFT was booked in a headline slot a full year before they broke out with "Heartbreaker" featuring John Legend.
That's not even mentioning the absolutely wild booking of N*E*R*D, the Pharrell Williams-fronted hip hop and rock group.
At the time, HARD was still being held at the Shrine Expo Hall, which has a maximum capacity of around 5,500 people. A far cry from the 70,000+ that now go to the festival each day.
6. HARD Haunted Mansion 2010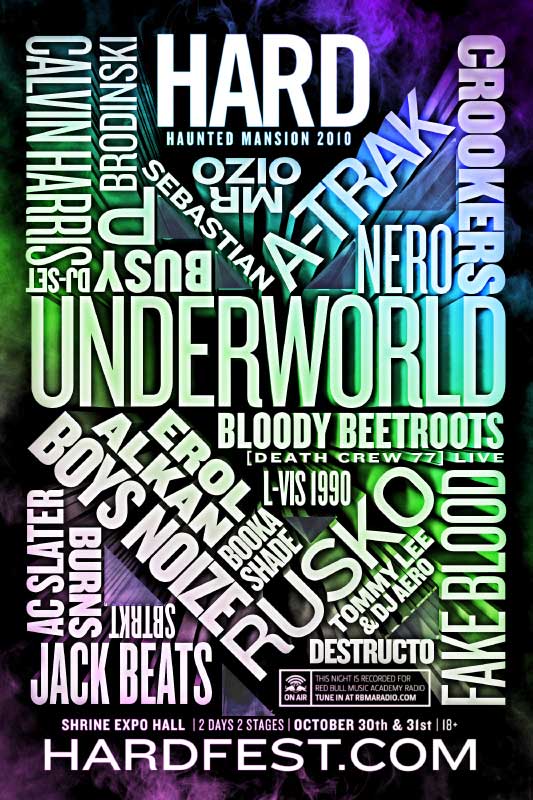 The 2010 iteration of HARD Haunted Mansion was actually, truly, insane. Since the lineup posted is quite scattered, let's go over all the names (remember, this is 2010):
Calvin Harris, Nero, Underworld, Boys Noize, Erol Alkan, Rusko, SBTRKT, AC Slater, A-Trak, Fake Blood, Jack Beats, Tommy Lee & DJ Aero, plus a mini Ed Banger takeover with Busy P, Brodinski, Mr. Oizo, and SebastiAn.
For just one day of music, you would likely have to sincerely cut every set in half to see literally everyone on this lineup because if you missed even one set, you were probably likely to regret it.
And remember, this is 2010 so Calvin Harris was just coming off Ready For The Weekend, The Bloody Beetroots had just released "Warp 1.9" the previous year, Rusko had just released "Woo Boost," Boys Noize released Power the previous year, and Nero was on the cusp of releasing Welcome Reality.
There was a TON of music that would go on to become iconic that was likely being heard live for the very first time.
5. HARD Day of the Dead 2013

We're getting into the absolute legend status of the festival at this point with HARD Day of the Dead 2013. Following the previous year's debut, this year was expanded to two days.
The headline row is stacks enough as it is: Skrillex, Nero, Boys Noize, Zeds Dead, Bloody Beetroots, Masters at Work, and Cirez D on day 1; Deadmau5, Calvin Harris, Pretty Lights, Eric Prydz, Cut Copy, Giorgio Moroder, Baauer b2b RL Grime on day 2. But you've also got Paper Diamond, Tokimonsta, Kavinsky (Live), Skream, Duke Dumont, Justin Martin, Maya Jane Coles, Soul Clap, David Heartbreak, and more down the line.
While the lineup is obviously heavily stacked, it's the stage design that makes this year great. Deadmau5, of course, brought his Cube. But the highlight of this year was Skrillex showing up in a giant pumpkin. It's definitely one of those "you had to be there moments," because just saying Skrillex showed up in a pumpkin doesn't exactly inspire awe or FOMO — but, you just had to be there.
4. HARD Summer 2015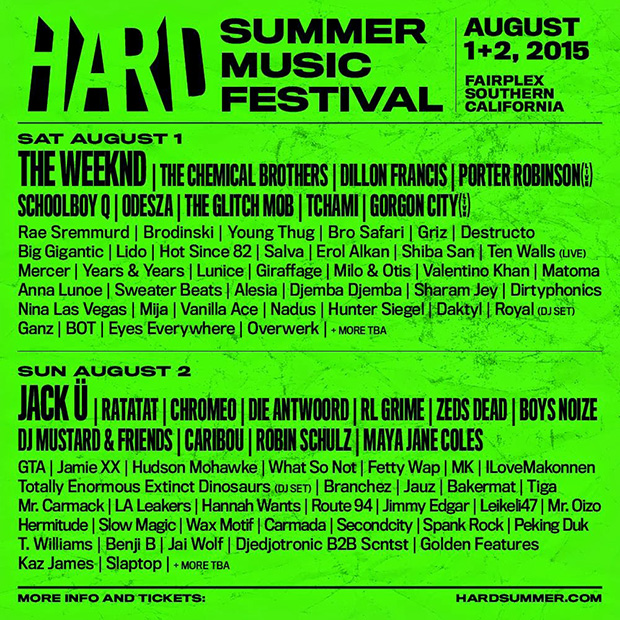 2015 was the first year that HARD Summer was hosted at the Pomona Fairplex, though Day of the Dead was there first about 9 months prior. Even with the summer heat beating down on everyone's backs, it was nothing like the Speedway.
The lineup this year was truly diverse, bringing in top tier hip hop to the main stage with lots of legacy acts and returning names. The Chemical Brothers and Ratatat closed out the HARDer stage day one and two, respectively, giving attendees who didn't want to deal with the crowds at The Weeknd or Jack Ü a strong alternative. Though, you would have missed Justin Bieber coming out with Jack Ü on day 2.
Then, you've got Porter live, The Glitch Mob, Die Antwoord, RL Grime, Zeds Dead, Jamie xx, GRiZ, Big Gigantic, Lido, Milo & Otis, Overwerk, Jai Wolf, Mr. Oizo, Hermitude, Branchez, Jauz, What So Not, Hudson Mohawke, Alesia, Djemba Djemba, and more earlier in the day. Absolutely unmatched energy.
3. HARD Day of the Dead 2014

This lineup right here… wow. The world debut of Deadmau5 b2b Eric Prydz, what was likely Pretty Lights' final show in California, Knife Party at their peak right after the release of their debut and only album, Abandon Ship, and Diplo on just day 1. Then Calvin Harris, Zedd, and Bassnectar (before we knew what we know now) on day 2.
There wasn't a lot of Halloween or spooky fanfare at the festival this year, as far as memory serves, but the strength of the lineup more than made up for it. Plus, as mentioned previously, this was the first event at the Pomona Fairplex.
Gesaffelstein, Seven Lions, Odesza, Moody Good, Snails, Sweater Beats, Zeds Dead, RL Grime, Claude VonStroke, Borgore, Big Gigantic, Pete Tong, Rustie, Thomas Jack, Ty Dolla $ign, Luminox, Cashmere Cat, Eekkoo, and more brought up the rest of the lineup to an incredible precipice. Still, only a couple more events matched this energy.
2. HARD Summer 2014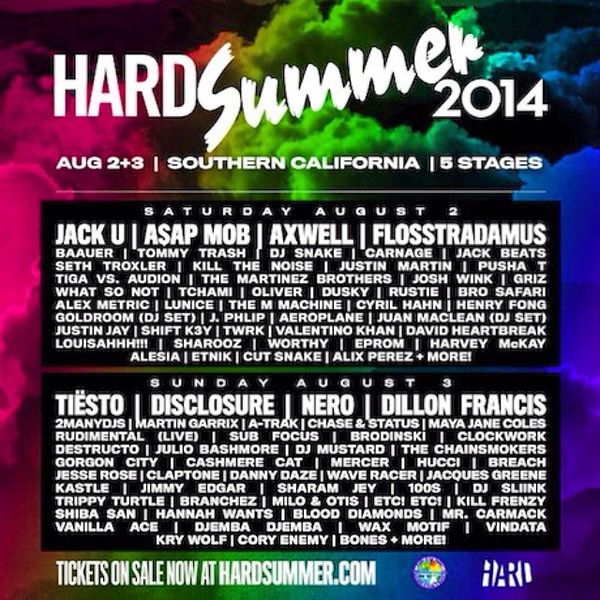 This might be one of the more unique HARD lineups ever. The one and only event hosted at Whittier Narrows after it was ousted from the LA State Historic Park by the city for renovation, and before it found its home at the Fairplex, the Narrows provided tons of shade and foliage for attendees to escape the summer heat.
With five stages pretty well spread out, sound bleed wasn't an issue and I honestly don't even remember it being that difficult to get from stage to stage.
What makes this lineup incredible is taking a deeper look at the actual set times. For instance, day 2 on the HARDer stage, you had The Chainsmokers into Clockwork into Sub Focus into Chase & Status into Martin Garrix and then, finally, Nero. This was also the final show for Clockwork before he made his full transition into RL Grime. The Purple tent was equally insane this year each day, with The M Machine actually closing out day 1 after Kill The Noise, as well as day 2's run of Trippy Turtle into Wave Racer into Hucci into Cashmere Cat.
You also had the incredible booking of Blood Diamonds, who you might now know as BloodPop, the producer for Lady Gaga, Britney Spears, Justin Bieber, Madonna, John Legend, and more. This was also Jack Ü's festival headline debut.
To top things off, and I've done extensively personal research and questionnaires on the topic, this is widely regarded as Nero's best set of all time. Every Nero superfan I've asked has said this was their favorite set, if they were witness to it. No recording exists, and it's truly a tragedy for the world.
1. HARD Haunted Mansion 2008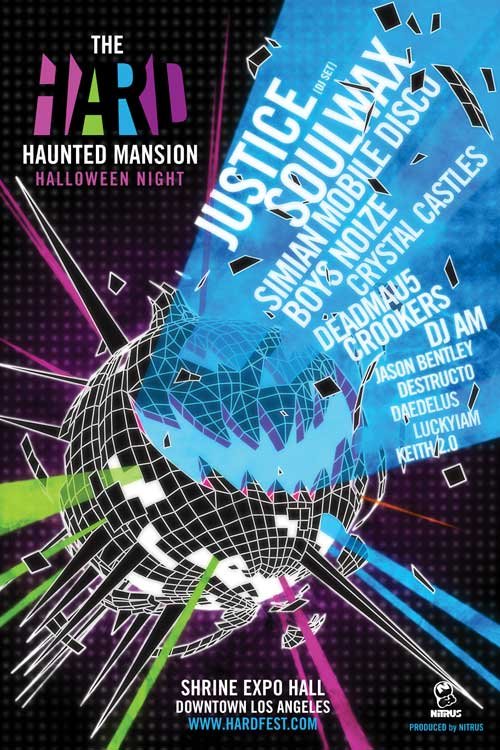 We're finishing things off with the most storied HARD event ever — HARD Haunted Mansion 2008. For the true fans out there, this was probably the one you've been waiting for.
Featuring a lineup in 2008 that consisted of Justice, Soulwax, Simian Mobile Disco, Boys Noize, Crystal Castles, Deadmau5, and Crookers, this was already going to be a legendary event before anyone had even entered the doors.
But, it's the story of DJ AM beginning his set wearing a Daft Punk helmet that truly cements this as the most legendary HARD of all time. AM played under the helmet for 40 minutes before he finally took it off and played a banger set for the remainder of his time, after he'd already nearly started a riot as rumors of Daft Punk playing spread throughout the venue.
It was actually quite easy to believe that DJ AM's slot had been given away as he was in a plane crash just 8 weeks before the event. In photos from his set, you can even see the burns on his arm still not fully healed.
Very little (clean) footage of the set exists, but you can watch the full set below recorded on a Flip Cam — remember, it was 2008.
This article was first published on Your EDM. Source: Ranking HARD Events Lineups From Best to Least Best Ahead Of HARD Summer 2022