Movement Detroit, the stateside techno pilgrimage, has released its full lineup for its belated return!
Joining the names from the teaser lineup are the likes of Detroit electro innovator DJ Stingray 313, techno pioneer Kevin Saunderson performing under his iconic alias E-Dancer, Palestinian DJ and producer Sama' Abdulhadi, renowned house music duo Duck Sauce, techno heavy-hitter Adam X, Berlin-native Kobosil, and over 100 other acts. Take a look at the full lineup below.
The techno heritage runs deep within the veins of Detroit and Hart Plaza and is again reflected throughout this lineup with some of the city's most prominent DJs, producers, and rising stars in dance music. Detroit techno trailblazers, Stacey Pullen and DJ Minx will perform alongside House music mainstays Rick Wilhite and Andrés; acclaimed Hip-Hop and House music producer Waajeed. Plus, Drummer B, Icewear Vezzo, Jazmin Re'Nae, Neisha Neshae, Huey Mnemonic, Tammy Lakkis, Deon Jamar, Meftah are among others who will be gracing these hometown stages.
There has always been something special about the energy within the confines of the city when Movement takes over. Detroit embraces its musical roots, unlike any other city we've seen, and to say that the return of Movement is long-overdue would be an understatement. We can't wait to see the city come alive once again!
Tickets and hotel packages are available here: www.movementfestival.com
Movement Detroit 2022 Lineup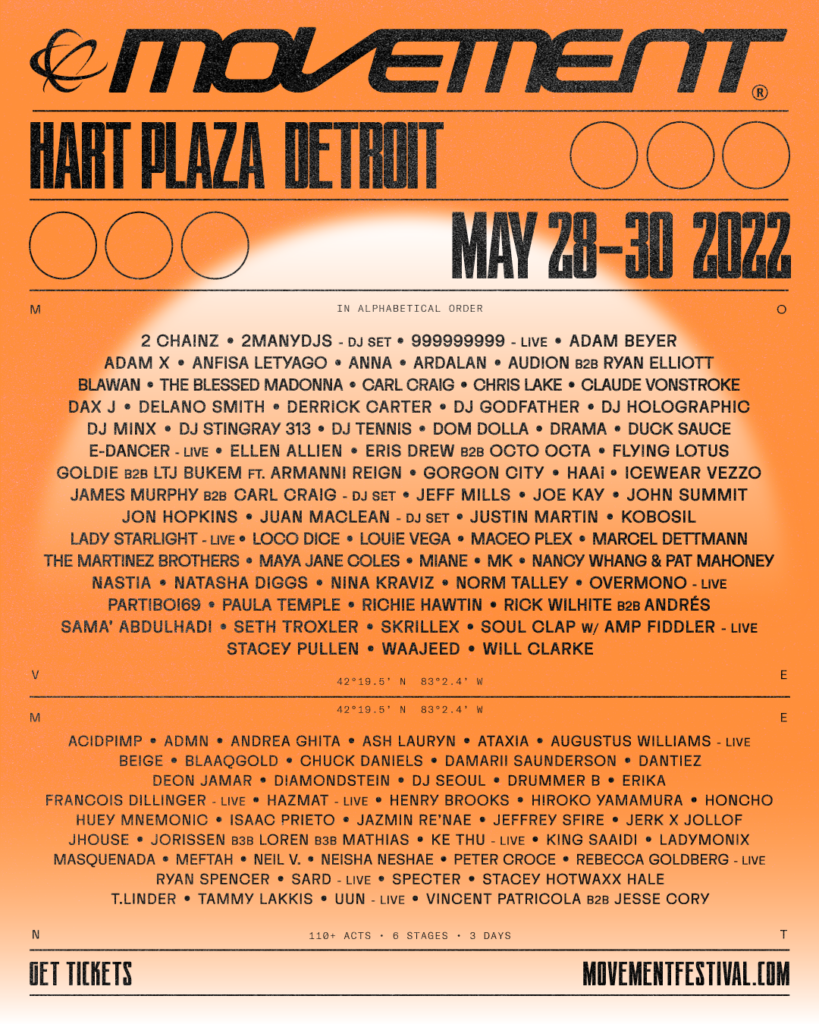 This article was first published on Your EDM. Source: Movement Detroit Announces Full Lineup for 2022